Add general information about your company including your company logo, website, and description of work.
Overview
The Company Details page is where you can find general information about your own company. Although all users from the company can view the page, only company administrators can edit the information.
Fields of the Company Details page include:
Company Logo

Company name

Business Type

Headquarters Location

Company Website

Description
It's important to keep your company information, especially your company name, up to date because your company name shows up in many areas of each project. Users from other companies will see your company name in share lists, directories, and more.
Update your Company Details
Note: Updating your company information is restricted to Company Administrators only. While all users from your company can see your Company Details tab, only Company Administrators can edit the information.
Click your name on the right side of the top navigation bar and then click the My Company link.


By default, you are taken to the Company Details tab in view mode. To edit your company information, click the Edit button.


After making the appropriate updates, click the Save button.

Update Your Company Logo
ProjectTeam.com allows you to add your company logo to the top navigation bar. To add the company logo, click the Add New Logo button on the Company Details page.
Logo recommendations:
Horizontal logo

JPG format

Solid white or colored background
After adding your logo, you may have to refresh your browser to see the new logo appear in the navigation bar.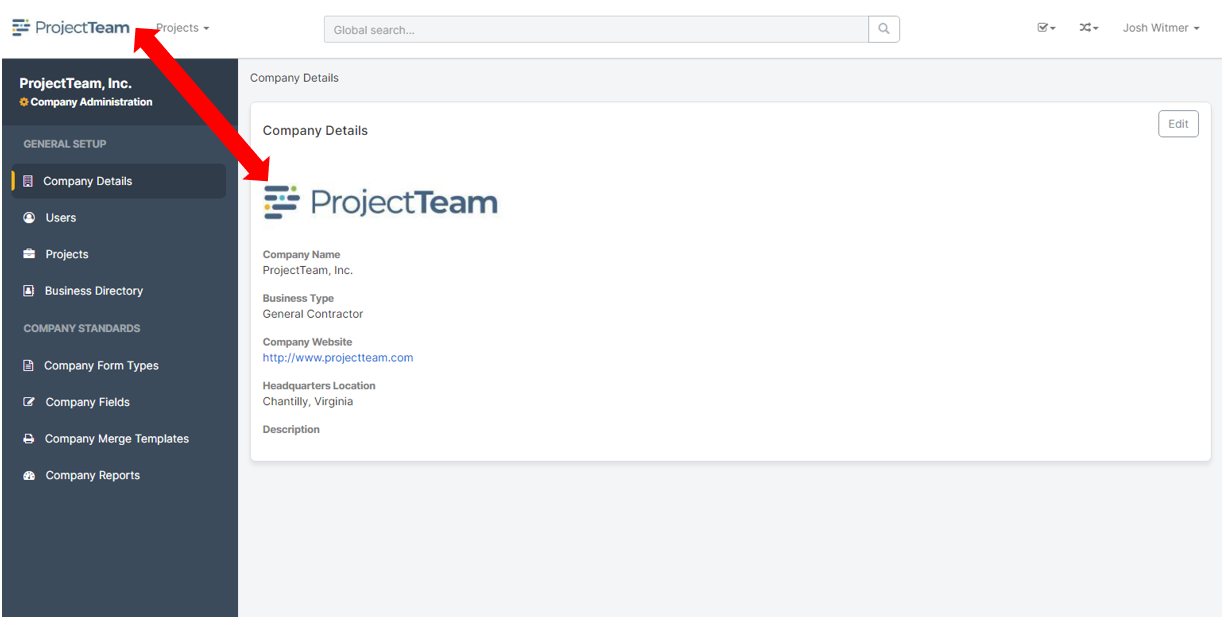 A note for "Contributor" companies
A Contributor company does not have any Administrators. Therefore, any user from the Contributor company has access to update their company's Company Details page. The Company Details page is the only page within the Company Administration area that Contributors have access to. Users from Contributor companies will see a yellow "upgrade" icon next to all other features and can request an upgrade at any time.